Back To Blog
Locks should be adapted to the setting in which they are used. When contemplating a lock change, the first question should be whether the lock will be fitted externally or internally on the building. Several kinds of locks exist for both, but two kinds are significantly more common than others.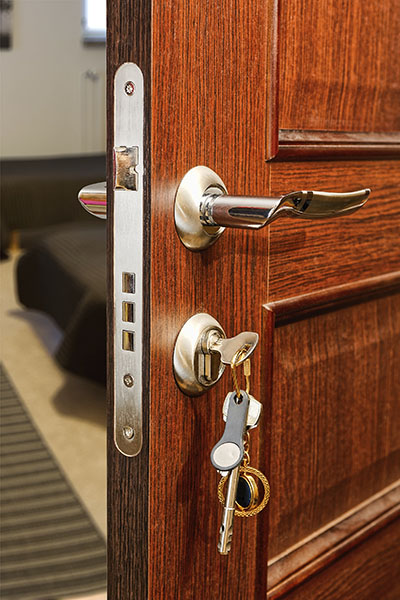 The External Deadbolt Lock
Deadbolt installation is usually done on external doors, and they come in three different types—lockable thumbturn, single, and double. They each have their own features and advantages, and the type you choose will depend on your needs. The single deadbolt lock operates via a keyhole on the outside and a thumbturn on the inside. If one has access to the inside of the door, the thumbturn can easily be used to open the deadbolt, making it the least secure of the three options. The double deadbolt needs to be opened with a key on both sides. This is safer in terms of preventing anyone from breaking in, but may pose a hazard in case of an emergency as the key must be located prior to opening the door from the inside. The lockable thumbturn is the overall most secure deadbolt, and is a combination of a single and double. It has a thumbturn on the inside which can be locked with a key.
The Internal Lever Handle Lock
These locks are commonly found on internal doors as well as in handicap accessible settings. As they only require pushing down a handle, they are less complicated to open than other types of locks. They can usually be adapted for left and right handedness. One should keep in mind that lever handle locks may be unable to withstand attempts at forcing the lock open by applying pressure to the handle. Rather than strain the lock, clutch levers, a type of lever handle lock, will turn if attempted forced. Since this lock will usually be used internally, though, its security features will almost always suffice.
Consulting a local locksmith service about key replacement and lock replacement can save a lot of trouble. A lot of advice may come out of it, and going in with some basic knowledge about the most common type of internal and external lock is an advantage. It will ease the understanding of technical terms, and one will be in a better position to ask questions in order to ensure that the right decision is made.